The Guest Book
The Organic Farm | An Introduction On Ethical Tourism
"Amazing day trip"
After a few days in busy Seminyak we decided to take a day trip to the Organic Farm, best decision of our holiday! Our driver, Wayan, was full of information about Bali and not just the touristy stuff, he was a walking history lesson! His love of Bali made the drive there and back really enjoyable and we all walked away with a greater appreciation for the beautiful place Bali is.
We were greeted by all the staff and given refreshing fresh juices and snacks, yum!! My belly wasn't 100% so they made me a detox drink to help. We went for a tour and our guide was amazing, his knowledge of the area and the techniques used on the farm was extensive and he took us to his family compound and where we met his Mum and young daughter.
We then went back to the main building for a delicious, freshly cooked lunch, again, yum!! Then off to the hot springs amongst the rice fields, a very unique experience.
The knowledge and love all the staff have for Bali made this trip so worthwhile, you see the real Bali and learn so much of it's history and traditions. The day trip was so worthwhile. The staff make this a very personal experience and we saw no other tourists while we were there.
Thank you again to all at the Organic Farm Bali :-)
— Jacki February 2015
A special place and special people. A rare and wonderful experience for those lucky enough to find. We hope this fine balance will support you and allow others to experience what we will carry as a special memory for the rest of our lives. We thank you for your vision and your courage to create this space and then offer it to others.
— Jim and Jen, West Australia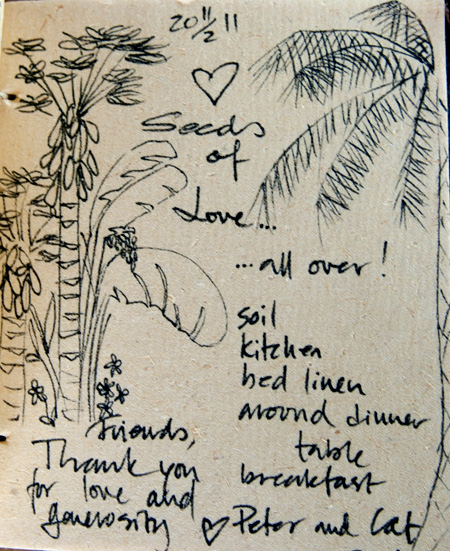 I thought we were going to stay on the flat road?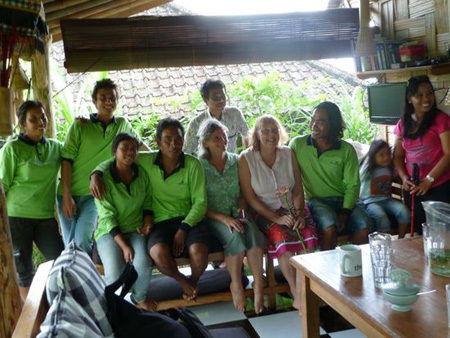 There are some very lucky ducks who have managed to find a farm where they can swim in a lake and know they won't end up on the chopping block, Wayan has told us they are just for leisure not eating. The farm has chickens, rabbits, doves, and frisky rooster who have to be kept away from the others due to their inability to play well.
Terima kasih Marjan dan Wayan,
What a great journey we had of getting lost and discovering your paradise. You have created every person's dream in one short year. Come stay with us in Australia and we will catch some waves together.
— Gail & Lance, Coolum Beach, Australia
The real Bali revised! With all the true and great simple amenities that make you see the true values of life! May this farm be the permanent eye opener and special sanctuary for many people. It has been fantastic being here!
— Violet Amsterdam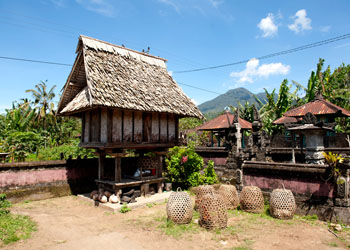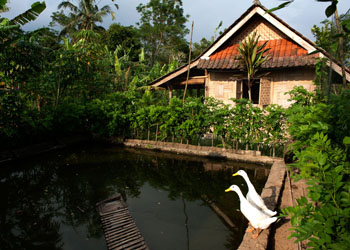 I have been around friends. I am sure one of earth's best kept secrets! What a magical experience, from dawn till midnight nature's callings, feelings to let you hear what the universe has to show us. I am very thankful and I hope to be back very soon, because it is pretty addictive! Hopefully you can share this with many, many more special people whom will find you! Because this place is a very big gift, and I am so happy to see that Wayan and you find both destinations here, keep up making no-plans. Universe will follow, path or no path, this is the only way to follow!
Thank you so much, lieffies!
— Sandra/Holland
We can't find the right words to describe this stunning place. It was a once in a lifetime experience!
Thanks so much for having us!
— Julia and Michael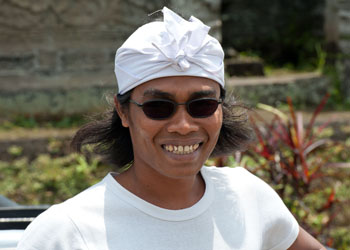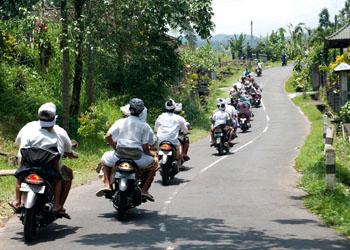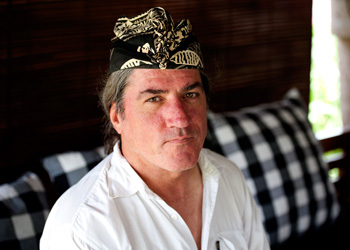 We simply cannot leave, and not just because there are no taxi's! The people and environment here are so pure and natural that you can take a break from the normal busy world. Even as Bali becomes more touristic, this is still a serene oasis.
— Leon Lubking Holland
Being here feels like heaven. To see the pure nature of environment, people, culture, organic farm gives us a warm and rich feeling. We learned a lot of two fine pople and their lovely staff (and dogs). Thank you all for having us here and we hope to see you soon again. The only thing we missed was the presence of a goat herd. Maybe next time. And don't forget the waslijn en de fohn.
— Love, Monique & Jos
Marjan & Wayan jullie zijn heerlijke mensen, puur en liefdevol. Hou die energie vast en bewaar hem voor anderen en jezelf. We hebben genoten van de natuur, jullie waterplaats en vooral van de healing-energy sessie. Ik voelde me net Astrix met 20 druiden om hem heen. De Marlboro die de healer platonisch veranderde in een joint heeft Rens erg goed gedaan. Bedankt voor de mooie leerzame ervaring.
— Rens en Guido/Oesterkoning, Holland
I feel blessed to have stumbled across this slice of paradise nestled into the jungle and the mountains. This was the Balinese experience I yearned for. The setting has been created with love and thought. The Organic Farm is a feast for eyes, soul and belly!
Yum, yum! I can only hope I'll be lucky enough to come back.
— Becks Hendriks New Zealand
This was the perfecct setting to get back to basics. From the breath taking views to delicious food and warm conversations. The Organic Farm Bali at its best! I was fortunate to spend the holiday with my father. Showing him the simple pleasures Bali has to offer was very special for me. The genuine smiles and big hearts of the staff and owner made our stay extra amazing. I can't wait to come back.
— Lacy Hall & Michael Hall Chicago USA
Words can not describe the beauty of this place, even pictures can not capture it. So we must experience every day in a "return to paradise" a remembering how humans and nature are always being one. Thanks for making this window and allow many to re-experience the union with themselves, with nature and the gods.
— Love Satya.
Lieve Marjan, zo leuk om je na zoveel jaar weer terug te zien. En dan op zo'n paradijselijke plek samen met mijn grote liefde Sasha. Munduk Lumbang een de prachtige locale bevolking heeft een grote indruk op ons gemaakt. Wayan en jij hebben ons het ware Bali laten zien. Wij weten zeker dat we terug komen. Overal ter wereld zijn ze heel goed in het creeren van afstandelijke luxe voor de verwende rijke tourist. Dit is een grote uitzondering, een plek die, op alle fronten in balans is met zijn omgeving.
Bedankt en veel liefs,
— Hans en Sasha (Amsterdam)
Our cups are filled thank YOU! With love, pureness, culture, fun, good conversation, great food, a lot of fire flies and so importantly the confirmation that if you trust life and let it blow you in it's gentle breeze you do end up where you are meant to be right now. For us it has been discovering The Organic Farm Bali on the foot of a bubbling Volcanic mountain in Bali. Thank you to Marjan and Wayan and all the beautiful staff , our lives are richer and our journey trough Bali has become unforgettable.
— Camiel and Jen (Holland and South Africa)
One family and a beautiful view. We love it, even though we are here for 10 minutes. I have the feeling this will be 2 very special days.
Love,
— Mara, Rudi, Annemarie, Elisabeth, Leo, Rudolf, Laura.
Dear Marjan!
Leiter nur fur 2 tage, wir haben uns herlich gefuhlt! Danke fur das gute essen!
— Annemarie & Rudorlf aus Ostenreich
Dear Marjan, Wayan, Dodi, Du and Kadek,
Driving to Jati Luwih all the signs pointing out "the organic farm" made us curious. With no other plans than getting lost we decided to follow the signs. We immediately had a warm welcome and felt right at home. Great food, and great company! But most of all feel we understand Bali and the Balinese better now.
Thanks for a wonderfull time!
— Love, Monique & Jos Robijn & Eric The Netherlands
It's been an absolute treat to be here. A retreat far from the madding crowd, where life is as it should be, with peace, beauty and time to think!
Thank you Marjan and Wayan for sharing your inspiring journey and pioneering spirits. Not to mention last but not least, the organic food and fabulous meals, each one a surprise. A nourishing experience, all in all, and one 2 hope many more will share.
— With Love, Deborah Australia/Bali
To Marjan, Wayan and The Organic Farm Bali Crew,
Thank you for the kindness, the knowledge, the sharing and the exploration of this beautiful land. Best of luck for future success!
— Elodie and Eric USA and France (living in Singapore)
Such a short time in a wonderful place. Impossible to decide what I loved the best. I adored all! THANK you everyone for superp hospitality.
— Lesley, UK
Great food, Great company. Great friends.
— Sang, UK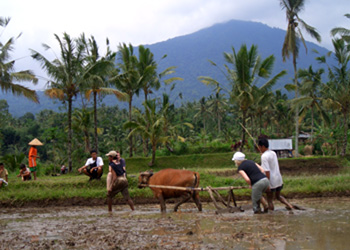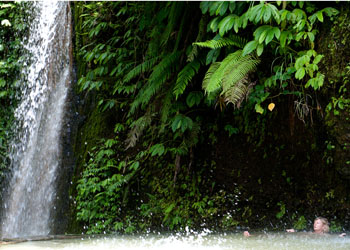 Na jaren de Bali-belevenissen van vriendin van Erik te hebben gevolgd, zijn we er nu zelf! Dit mee maken is de enige manier, voelen en zien is een "must". Heerlijk gehad: fietsen, hiken, baden in deze prachtige natuur met vooral de lieve mensen (en kids) in het dorp en op de farm geven ons een onvergetelijke ervaring.
Dan en lots of love to all of you, we hope "tot ziens".
— Inez en Gijs Amsterdam
Amazing place! Food was delicious. Totally new experience for all of us!
Thank you / Terima kasih!
— Jussi, Niina, Jasmin, Jarkko, Sammeli, Henri, Heta and Essi
Finland
We were just curious, followed the sign The Organic Farm Bali and felt in love with this place. (I don't remember if it was before the coffee or after.
Thank you Marjan and Wayan, Dodi and Du for everything!
— Simone & Esthi, Switzerland
We ended here by accident. Our crappy car couldn't take us up the road from the hotsprings to Candidasa. But maybe it was meant to be because then we got to spend the evening and night at this beautiful place.
Thank you for your hospitality! The food was superb!
— Sophia, Astrid and Christian, Sweden
Recorriendo esta hermosa region me encontre con una sinal…que fui siguiendo hasta encontrar este lugar muy especial ha sido und placer, un descubrimiento…y un sito para volver y volver. Marjan, Wayan iseguid adelante con esto proyecto! Esto es como un sueno, pero que en la realidad funciona,
Gracias por vuestra acojida en vuestro paradiso!
— Marina/ Sitges Spain